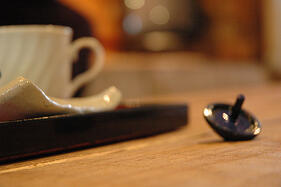 What you ultimately decide should depend on a variety of issues that range from customer eye contact to the health department regulations.
Standard kitchen counters are typically about 36" high, and standard bar counters are typically about 42" high. Although either counter height will work, most operators prefer to have the machine low enough to allow visual contact with the customer if the machine is located on the front bar or low enough to allow the operator to easily see into a milk frothing pitcher while steaming milk. This would favor a counter height of 36" or less, depending upon the specific machine dimensions, and whether or not the optional 6" tall extension legs for the machine will be required by your local health department. If you intend to install Espresso Service's water softening system directly under your machine, a 36" counter height is the minimum. If you intend to install our water filtering system directly under your machine, the counter height must be a minimum of 36". Moreover, in order to accommodate this system, the cabinet door must have a minimum vertical clearance of 24". To calculate the overall visual height of the machine, add your countertop height plus the height (with tall feet) of the machine (found in the "specifications" section for each model).
For more helpful advice on the installation of your new espresso machine, click here!